U.S. Premiere
BOOK OF MOUNTAINS & SEAS
The directors of PROTOTYPE Festival have made the difficult decision to postpone this year's tenth anniversary season to January of 2023.
Inspired by the ancient Chinese compilation of early myths of the same title, which was first transcribed in 4th century B.C, these mythological stories have become part of Chinese written and oral history, shifted and reshaped to match contemporary times. Book of Mountains & Seas is a 21st-century adaptation and expansion of four of these tales by composer & librettist Huang Ruo and director/puppetry artist Basil Twist.
This production is dedicated to Stuart Nelson.
Book of Mountains & Seas was commissioned by Beth Morrison Projects, Ars Nova (Copenhagen), Moss Arts Center/ Virginia Tech, Toronto Soundstreams, Koorbiennale, and Hong Kong New Vision Festival, and Linda & Stuart Nelson.
Book of Mountains & Seas is made possible by the Jim Henson Foundation, and the New York State Council on the Arts with the support of the Office of the Governor and the New York State Legislature. This production is supported by the Canada Council for the Arts.
Additional commissioning support provided by the Francis Goelet Charitable Lead Trusts.
Ticket buyers will receive communication from the festival and its various box offices about ticketing options this week.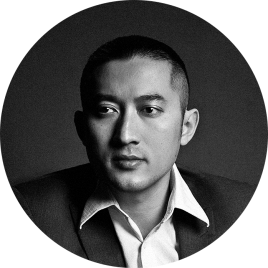 Huang Ruo
Huang Ruo (Composer) has been lauded by The New York Times for having "a distinctive style." His vibrant and inventive musical voice draws equal inspiration from Chinese ancient and folk music, Western avant-garde, experimental, noise, natural and processed sound, rock, and jazz to create a seamless, organic integration using a compositional technique he calls "Dimensionalism."  Huang Ruo's diverse compositional works span from orchestra, chamber music, opera, theater, and dance, to cross-genre, sound installation, architectural installation, multi-media, experimental improvisation, folk rock, and film. His music has been premiered and performed by the New York Philharmonic, Philadelphia Orchestra, Boston Symphony Orchestra, San Francisco Symphony, BBC Symphony Orchestra, Netherlands Radio Philharmonic, National Polish Radio Orchestra, Santa Fe Opera, Washington National Opera, Houston Grand Opera, Opera Theatre of St. Louis, Asko/Schoenberg, Ensemble Modern, London Sinfonietta, and conductors such as Wolfgang Sawallisch, Marin Alsop, Andrew Davis, Michael Tilson Thomas, and James Conlon.  His opera An American Soldier (with libretto by David Henry Hwang) has recently received its world premiere at the Opera Theatre of St. Louis in June 2018, and was named one of the best classical music events in 2018 by The New York Times.  Huang Ruo is a composition faculty at the Mannes School of Music in NY, and is the artistic director and conductor of Ensemble FIRE.  He was selected as a Young Leader Fellow by the National Committee on United States–China Relations in 2006. Huang Ruo's music is published by Ricordi.
Basil Twist
Basil Twist (Director, Scenographer, Puppetry) is a third-generation puppeteer. He is the sole American to graduate from the École Supérieure Nationale des Arts de la Marionnette in Charleville-Mezieres, France. Twist's showmanship was spotlighted in New York by The Jim Henson International Festival of Puppetry with his award winning The Araneidae Show. This recognition coupled with the ground-breaking and multiple award-winning Symphonie Fantastique, Twist was revealed as a singular artist of unlimited imagination. Subsequently Twist has created over 20 original full-length works for the stage. Highlights include Petrushka, The Rite of Spring (Lincoln Center), Dogugaeshi (Barbican, Paris, Charleveille-Mezieres), Behind the Lid (New York) and Arias with a Twist (Paris, Stockholm).  He was set-designer and co-director for A Streetcar named Desire (La Comédie Française) Other operas he has directed and designed include Respighi's La bella dormente nel bosco (Lincoln Center Festival, Spoleto) and Hansel and Gretel (Houston, Atlanta, Michigan Opera). Ballet collaborations with Christopher Wheeldon include Cinderella, (Dutch National and San Francisco Ballet), The Winter's Tale (Royal Ballet) and The Nutcracker (Joffrey).His honors include Obie, Henry Hewes and Doris Duke Performing awards, multiple UNIMA and Bessie Awards, a Guggenheim fellowship, a MacArthur Fellowship and The Rome Prize. He directs the Dream Music Puppetry Program at HERE, New York City.