World Premiere | Chamber Opera
Adoration
January 12-13 and 18-20 at 8pm | January 14 at 5pm | 90 Min at The Sheen Center for Thought & Culture
An adaptation of Atom Egoyan's film of the same name, Adoration follows Simon, an orphaned high school student. As part of a dramatic writing exercise, Simon's teacher encourages him to appropriate details from a historical terrorist attack as an event perpetrated by his parents. When his story goes viral, Simon uses the hysteria within his community and on the internet to highlight the challenges of intolerance and racism in our society. The fictional and actual circumstances of the loss of Simon's family are revealed in fragments, only fitting together with the final revelation that the prejudices of Simon's maternal grandfather led to his parents' deaths.
Hate is too often portrayed as binary. We either hate or we don't. We hate someone for something they did or some perceived slight, or we hate "the other." Yet we are not born with hate—it is learned, nurtured, and developed over the course of a lifetime. Adoration tells two simultaneous stories—a fictional story of terrorism and betrayal juxtaposed with a real story of family strife and rejection of something foreign.
Commissioned by Beth Morrison Projects, Trinity Church Wall Street, with lead commissioners Justus Schlichting and Charlotte Isaacs. Additional commissioning support provided by Susan Bienkowski. Developed by Beth Morrison Projects in association with the University of Southern California Thorton School of Music, Opera Department. Adoration was workshopped at Banff Centre for Arts and Creativity as part of the 2023 Opera in the 21st Century Program. Produced by Beth Morrison Projects in association with Trinity Church Wall Street. Additional support is provided by the Virginia B. Toulmin Foundation, the Francis Goelet Charitable Lead Trusts, and Visionary Women. This project was made possible by the New York State Council on the Arts with the support of the Office of the Governor and the New York State Legislature. Supported, in part, by an OPERA America Opera Grants for Female Composers award, the Virginia B. Toulmin Foundation, and the National Endowment for the Arts. The production of Adoration received funding from OPERA America's Opera Fund.
Mary Kouyoumdjian (Composer)
Kouyoumdjian has received commissions for such organizations as the New York Philharmonic, Kronos Quartet, Carnegie Hall, Metropolitan Museum of Art, Beth Morrison Projects/OPERA America, Alarm Will Sound, Bang on a Can, International Contemporary Ensemble, Brooklyn Youth Chorus, the American Composers Forum, Roomful of Teeth, WQXR, REDSHIFT, Experiments in Opera, Helen Simoneau Danse, the Nouveau Classical Project, Music of Remembrance, Friction Quartet, Ensemble Oktoplus, and the Los Angeles New Music Ensemble among others. Her work has been performed internationally at Carnegie Hall, Lincoln Center, New York's Museum of Modern Art (MoMA), the Metropolitan Museum of Art, MASS MoCA, the Barbican Centre, Brooklyn Academy of Music (BAM), Millennium Park, Benaroya Hall, Prototype Festival, the New York Philharmonic Biennial, Cabrillo Festival, Big Ears Festival, 21C Music Festival, and Cal Performances. Her residencies include those with EMPAC, Buffalo String Works, Alarm Will Sound/The Mizzou International Composers Festival, Roulette/The Jerome Foundation, Montalvo Arts Center, and Exploring the Metropolis. Her music has been described as "eloquently scripted" and "emotionally wracking" by The New York Times and as "politically fearless" and "the most harrowing moments on stage at any New York performance" by New York Music Daily.  In her work as a composer, orchestrator, and music editor for film, she has collaborated on a diverse array of motion pictures including orchestrating on the soundtracks to The Place Beyond the Pines (Focus Features) and Demonic (Dimension Films).
Royce Vavrek (Librettist)
Royce Vavrek is a Canada-born, Brooklyn-based librettist and lyricist who has been called "the indie Hofmannsthal" (The New Yorker) a "Metastasio of the downtown opera scene" (The Washington Post), "an exemplary creator of operatic prose" (The New York Times), and "one of the most celebrated and sought after librettists in the world" (CBC Radio).  His opera "Angel's Bone" with composer Du Yun was awarded the 2017 Pulitzer Prize for Music.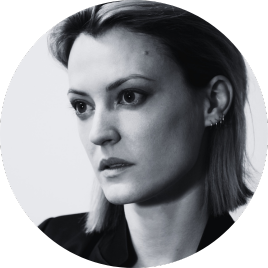 Laine Rettmer (Director)
Laine Rettmer is a North American visual artist and opera director based in Brooklyn, NY. Their work explores performance, gender, desire, and methods of social control. Rettmer's work has been presented nationally and internationally at the Vizcaya Museum; Manifesta; MoMA Public, curated by Mel Logan and Jakob Boeskov; Museum of Fine Art, Boston; CreaTures Festival, Seville, Spain; MassArt, Brant Gallery, Boston, MA; Silvermine Gallery, Connecticut, CT; Massachusetts Institute of Technology Museum for the exhibition, Hot Steam; the Illuminus Festival; the Boston Independent Film Festival; the Yuan Art Museum; Yve Yang Gallery; Perkins and Ping; Present Company; NADA NY, NADA Presents; and AREA gallery, among others.
Rettmer's opera productions have been praised as "wickedly smart" and "devastatingly funny" by The New York Times, and "not only profound but also shattering" by the Observer. Their, Barber of Seville, was named one of the top 10 classical music productions of 2014 by the New York Times and La Bohème one of the best operas of the decade by the Observer. For four years Rettmer was the resident stage director for the New York based company LoftOpera, with whom their last production, Macbeth, received a Freddie Award for Best New Production and was nominated for Best Director. Rettmer has also worked extensively on new opera with such companies as New York City Opera, Beth Morrison Projects, On Site Opera, White Snake Opera, Ecce Ensemble, Guerrilla Opera, and Rhymes with Opera. They are currently on the Artistic Advisory Board of On-Site Opera. In 2022, they directed a feature film version of the opera La Boheme which was a co-production between Opera Omaha, More than Musical, and Tri-Cities Opera, which is housed on Boston Lyric Opera's digital media site, operabox.tv, and will have a commercial run through Toho Cinemas in Japan. This season Rettmer is in post on their second feature, Oblivion, composed by John Alyward, and directing Let's Celebrate, for White Snake, Adoration, for Beth Morrison, and Lyssistrata, the spring main stage at Mannes, Parsons.