U.S. Premiere | Dance/Music-Theatre
Cion: Requiem of Ravel's Boléro
January 15 at 7:30pm | January 16-18 at 8pm | January 18 at 2pm at The Joyce Theater | 60 minutes
Set in a graveyard filled with the persistent cries of visitors in mourning and the poignant music of Isicathamiya singers (an a cappella singing style originating from the Zulus), Cion: Requiem of Ravel's Boléro vividly elicits emotions associated with the loss of life. Physically charged and visually striking, the work is choreographed by South African native and internationally-known choreographer Gregory Vuyani Maqoma. Cion draws inspiration from author Zakes Mda's novel,  Cion and Ravel's Boléro,  and is, in Maqoma's words, "a lament, a requiem required to awaken a part of us, the connection to the departed souls."
A production of Vuyani Dance Theatre
Cion: Requiem of Ravel's Boléro is made possible by the New York State Council on the Arts with the support of Governor Andrew M. Cuomo and the New York State Legislature
Photo Credit: John Hogg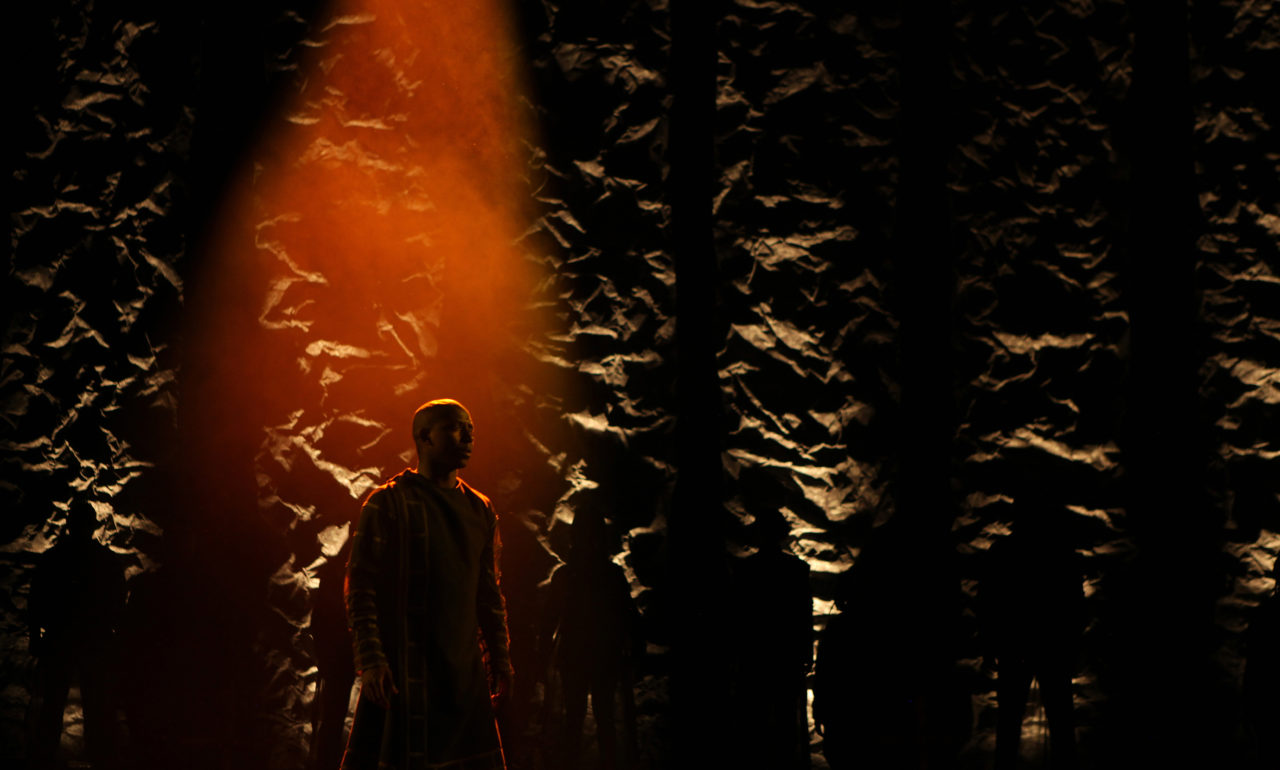 $10–$75
$30 with PROTO Pack
$60 with Premium PROTO Pack
For rush access at The Joyce please check in with the Box Office who will direct you to the appropriate PROTOTYPE delegate. Rush is first come, first served and is extremely limited at The Joyce. 
175 Eighth Avenue
New York, NY 10011
212.691.9740
https://www.joyce.org/
PUBLIC TRANSIT
Subway: A, C, E, to 14th Street; L train to Eighth Avenue; 1 train to 18th Street
Bus: M20 uptown or downtown to 23rd Street; M7 or M14 uptown to 14th Street; M7 or M14 downtown to 14th Street; M11 downtown to 23rd Street
PARKING
Parking garage located at 19th Street between Seventh and Eighth Avenues.
ARTIST STATEMENT
In this piece the message of death and it's dire consequences are infused through a lament to be able to confront a universe in which the age-old tropes of greed, power and religion have given rise to loss of life not as a natural phenomenon. Toloki, the professional mourner weaves through this virtual landscape of dissolution giving rise to a catharsis of universal grief that will conquer the sadness, the hard reality continuing to permeate the living confronted by death that is not their own, often so unexpected, brutal and merciless. Cion as in Zion, the African church  is set in a graveyard, a church where the body is religion and the voices are personal. Cion: Requiem of Ravel's Boléro, draws inspiration from creations by two artists: the character Toloki in South African author Zakes Mda's novels Cion and Ways of Dying and music from French composer Maurice Ravel's Boléro. It's a universal story encompassing the past and the present that champions our ability to band together to share the burden of grief. Set in a graveyard with the persistent cries of people in mourning and the a cappella music of Isicathamiya in our languages sang by a quartet to the creative arrangement and composition by Nhlanhla Mahlangu that vividly elicits emotions associated with the loss of life performed by nine dancers who are themselves possessed by the spirit and being one with the departed souls and finally lying them to rest for peace and humanity to prevail. Maqoma's message through this work is that we need to pause for a moment and urgently think about the pain inflicted on others by the actions of others.

DRAMATURGICAL STATEMENT
In Colonial era South Africa, the mass relocation of peoples created a multilingual and multicultural society. In distinct reaction to music and dancing being outlawed in work compounds and factory yards, singing was reborn in whispers and dance in hidden gestures.  This new artistic language, rooted in the traditions of black South African workers, has the capacity to communicate beyond words, what the South Africans call "Ingoma." It is in this artistic language that CION effuses, seeking to communicate a powerful shared human experience.

Read the libretto here
Gregory Vuyani Maqoma
(Creator) became interested in dance in the late 1980's as a means to escape the political tensions growing in his place of birth. He started his formal dance training in 1990 at Moving Into Dance where in 2002 he became the Associate Artistic Director. Maqoma has established himself as an internationally renowned dancer, choreographer, teacher and director. He founded Vuyani Dance Theatre (VDT) in 1999 when he was undertaking a scholarship at the Performing Arts Research and Training School (PARTS) in Belgium under the direction of Anne Teresa De Keersmaeker. Maqoma is respected for his collaborations with artists of his generation like Akram Khan, Vincent Mantsoe, Faustin Linyekula,Dada Masilo, Shanell Winlock, Sidi Larbi Cherkaou, Nhlanhla Mahlangu and Theatre Director James Ngcobo. Several works in his repertoire have won him accolades and international acclaim. This includes FNB Vita Choreographer of the Year in 1999, 2001 and 2002 for Rhythm 1.2.3, Rhythm Blues and Southern Comfort respectively. He received the Standard Bank Young Artist Award for Dance in 2002. Maqoma was a finalist in the Daimler Chrysler Choreography Award in 2002 and in the Rolex Mentorship Programme in 2003. He is the recipient of the 2012 Tunkie Award for Leadership in Dance. In 2014 he received a "Bessie", New York City's premier dance award for Exit/Exist for original music composition. He served as a nominator in the 2016–2017 Rolex Arts Initiative as well as curating the 2017 Main Dance Program for The National Arts Festival. His current works 'Via Kanana' and 'Cion: Requiem of Ravel's Bolero' ' are currently touring in Africa and Europe. In 2017 Maqoma was honoured by the French Government with the Chevalier de l'Ordre des Arts et des Lettres (Knight of the Arts & Literature) Award. In 2018 was honoured by the South African Department of Arts & Culture with the inaugural Usiba Award for dedication to dance teaching. In 2018 Maqoma is one of the selected visiting artists at the Virginia Commonwealth University Dance Department as well as a visiting teacher at Ecole De Sables – Toubab Dialaw – Senegal. Maqoma is part of the selection committee for Dance Biennale Afrique Festival to take place in Marrakech in 2020. In 2019 Maqoma is choreographing and performing in William Kentridge's new opera 'The Head And The Load' which premiered at The Tate Modern Gallery in London in July, the world tour includes Germany, Holland, Austria and New York.
Nhlanhla Mahlangu
(Music Director) Exceptional vocalist, composer, theater maker, gravity defying dancer and educator Nhlanhla Mahlangu is a graduate in the theory and practice of Dance teaching at Moving into Dance, Mophatong. Recently Mahlangu has turned his attention to translating his prolific local and international career on stage in to an Master of Arts by Creative Research at the University of Witwatersrand. Mahlangu can only be described as a generous interdisciplinary collaborator who excels at conjuring original, complex and contemporary work rooted in traditional forms. 
 
Born in Pholapark Squatter Camp in Apartheid South Africa in the late 1970s, Mahlangu started school during the national state of emergency in the1980s. Mahlangu witnessed first hand the conflicts between the African National Congress, Inkatha Freedom Party and The 'Third Force' of the 1990s. His seminal body of work, Chant is shaped and inspired by these experiences. 
 
In addition to his contemporary dance and musical ingenuity Mahlangu is celebrated for his embodiment of Isicathamiya, a cappella-type musical form combining vocals and movement, Mahlangu uses this practice as a way to process the history of South Africa, particularly the plight of migrant workers, these performances look to build social cohesion, heal the wounds of the past and encourage resilience in the new Democratic South Africa. 
 
Nhlanhla Mahlangu's prolific practice is one of interrogation, articulation, development and research. He has gained exceptional ground through his pivotal  collaborations with luminaries the calibre of William Kentridge, Robyn Orlin, Richard Cock, Gregory Vuyani Maqoma, Sylvia Glasser, Vincent Mantsoe, Jay Pather, James Ngcobo, Victor Ntoni, Hugh Masekela, as well as his choral music and music making approaches with his Hlabelela Ensemble and Song and Dance Works. Mahlangu was a Naledi award winner for Best Choreographer in 2017.