World Premiere | Chamber Opera in 13 Movements
Magdalene
January 11, 13, 15, 17 at 7:30pm | January 12 at 4pm | January 16 at 6:30pm at HERE Mainstage | 70 minutes
This wild meditation on transformation and desire scored by the collective voices of fourteen women. Set to Marie Howe's Magdalene poems, the opera invites an audience into the interior world of Mary Magdalene — enlarging her to cross time and space, she appears as a woman alive now, who strives to heal the unyielding split between the sacred and the sexual. Encountering her life in flashes – wandering through a hotel, lighting birthday candles, making love in the ocean – Magdalene finds transcendence in the mundane to finally become the subject of her own story.
Produced by PROTOTYPE
Magdalene is made possible by the New York State Council on the Arts with the support of Governor Andrew M. Cuomo and the New York State Legislature
Photo Credit: Hana Sooyeon Kim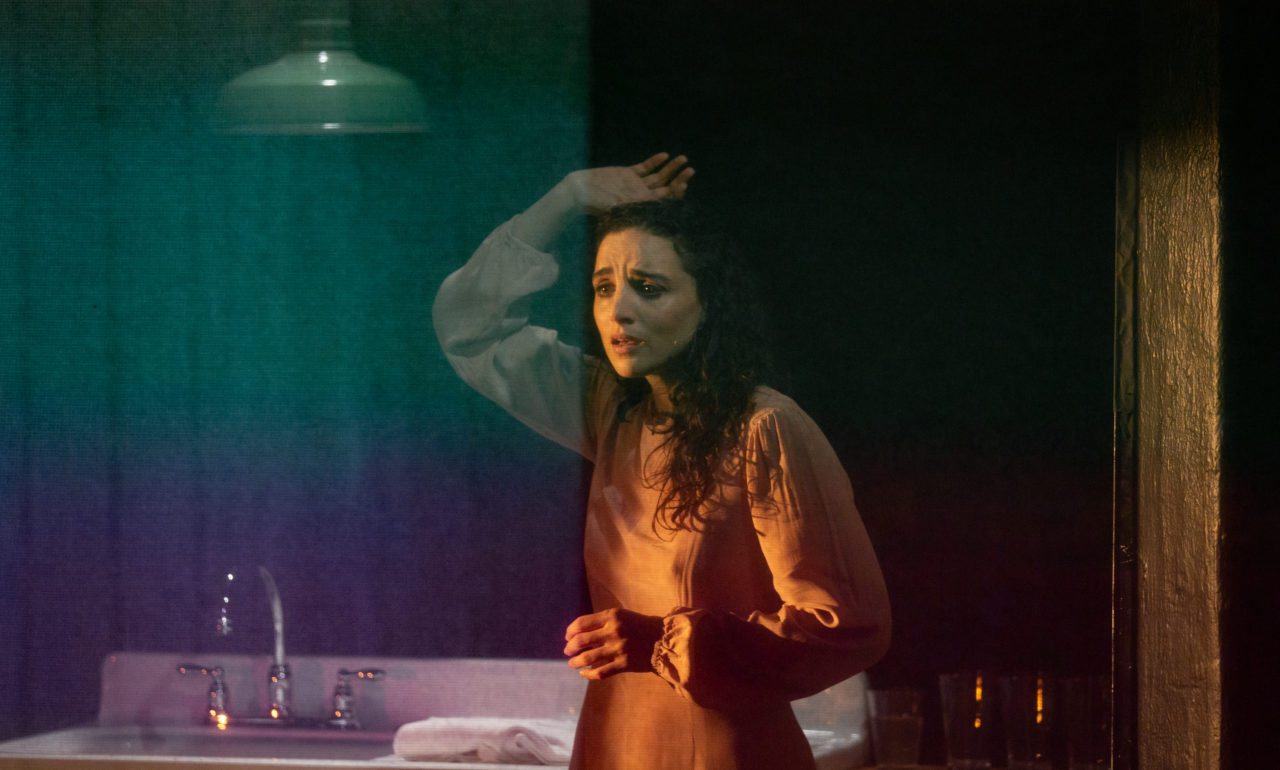 $35–$75
$30 with PROTO Pack
$60 with Premium PROTO Pack
Students and teachers can get a free rush ticket upon presenting valid ID. There is a limit of 1 ticket per person, and the ticket will be given out just before the House closes and the show begins. Entirely subject to availability.
145 Sixth Avenue
New York, NY 10013
One block south of Spring St.,
enter on Dominick St.
212.352.3101
here.org
PUBLIC TRANSIT
Subway: C or E to Spring St.; 1 to Houston St.; N or R to Prince St.
Bus: M21 to Houston St.; M6 to Spring St.
ACCESSIBILITY
Both of HERE's spaces are wheelchair accessible, and fully compliant with ADA requirements
PARKING
There is an Edison ParkFast lot behind Manhattan Mini Storage on Varick Street and Spring Street. Drivers can enter from Spring or Dominick Street.
Edison ParkFast
272 Spring Street
New York, NY 10013
212-675-8910
DRAMATURGICAL STATEMENT
Mary Magdalene is a figure who lives in both the sacred and secular worlds. To devout Christians her significance is difficult to overstate. She is mentioned in the Gospels more times than any of the apostles, and was a witness to the Crucifiction and the Resurrection: to believers this is as close as a human can be to God. The confluence of her story of loyal benefactor, with the faith Mary of Bethany, and a repentant woman cited in the Gospel According to Luke, by Pope Gregory in the sixth century, has been the source of great schisms both within and without Christianity ever since. To what extent it was meant to be an apocryphal story modeling the spirituality of ministering to the abused, or as a deliberate degradation of Mary Magdalene's character and role in Jesus' life (and so the role of women in Christian teaching and society) has been to say the least, contentious. That the Catholic church in 1969 officially clarified its stance that the Gospels refer to three different women(and other sects always have); and that the description in the Gospel of the repentant woman is only as "sinful"; and that non-biblical sources describe Mary Magdalene as a deeply intelligent, valued and close advisor to Jesus, has done little to dim her image in the popular imagination as, Jesus' lover, possible wife, and prostitute. She is now a vassal for all our prejudices and idealisations of womanhood: saint and harlot. The artists creating Magdalene seek distance from these myths and controversies and instead take inspiration from these stories' elements, among them spirituality, fealty and sexuality, and interpret them through the presentation of a real, contemporary woman, to address in the librettist's words "the spiritual dimensions of life as they present themselves in this world."