NY PREMIERE | MULTI-MEDIA CONCERT
Pancho Villa From A Safe Distance
January 5, 7, 8 at 7:30PM | January 6 at 2PM | Post-show conversation on Jan 7 at BRIC House
Pancho Villa From A Safe Distance is a bilingual cross-border opera about the enigmatic general, legendary bandit, and hero of the Mexican Revolution. Through a non-linear collage of scenes from or inspired by the life of the complex, contradictory, and controversial leader, the piece provides a timely lens into the relationships and overlaps between the communities of Mexico, the United States, and the borderlands. This Creative Capital Award-winning project brings together an impressive array of artistic collaborators from both sides of the Rio Grande: Austin, TX based composer Graham Reynolds, librettists Lagartijas Tiradas al Sol of Mexico City, director Shawn Sides of Rude Mechs, and an exceptional ensemble of two vocalists and six instrumentalists built around Grammy-winning producer-guitarist Adrian Quesada.
Produced by David Lobel and Kate Murray at Lobel Arts, Graham Reynolds' Management.
Originally commissioned by Ballroom Marfa and co-commissioned by Fusebox Festival.
Pancho Villa From A Safe Distance is made possible by the New York State Council on the Arts with the support of Governor Andrew M. Cuomo and the New York State Legislature.
75 minutes | Photo By Alex Marks
BRIC
647 FULTON ST, BROOKLYN, NY 11217
Public Transit
Subway: B/Q/R to DeKalb Ave; 2/3/4/5 to Nevins St; C to Lafayette Ave; G to Fulton St, Steps from the Atlantic Terminal and Long Island Railroad Bus: B25, B26, B38, B52 to Fulton Street and Ashland Place
Accessibility
The Gallery, Artist Studio, Ballroom, Lobby and Café are fully accessible. If accessible seating is required please call 718-683-9350.
GRAHAM REYNOLDS
Graham Reynolds (Composer) Called "the quintessential modern composer" by the London Independent, Austin-based composer-bandleader-improviser Graham Reynolds creates, performs, and records music for film, theater, dance, rock clubs, and concert halls with a wide range of collaborators across a multitude of disciplines. Heard throughout the world in films, TV, stage, and radio, he recently scored Richard Linklater's Last Flag Flying with Steve Carell, Bryan Cranston, and Laurence Fishburne for Amazon Studios, the Rude Mechs' Stop Hitting Yourself for Lincoln Center Theater, Ballet Austin's Belle Redux, and a multi-year commission from Ballroom Marfa, The Marfa Triptych. Pancho Villa from a Safe Distance is the Creative Capital Award winning final component of this triptych, created with librettists Lagartijas Tiradas al Sol (Mexico City) and director Shawn Sides. With the jazz-based but far reaching Golden Arm Trio, Reynolds has repeatedly toured the country and released four critically acclaimed albums. As Artistic Director of Golden Hornet – a non profit organization which draws on the collaborative spirit of rock bands and the composer-led nature of classical music – Reynolds guides the commissioning of new works, fostering of young and emerging composers, and presentation of adventurous works in non-traditional settings, including his own.
Headshot by Bill McCoullough
LAGARTIJAS TIRADAS AL SOL
Lagartijas Tiradas Al Sol (Librettists) Founded in 2003 by Luisa Pardo and Gabino Rodriguez, Lagartijas Tiradas Al Sol is a community of Mexico City-based artists making project that link work and life and erase borders. They seek to clarify and articulate, but also to disrupt and unravel notions of biography, document, and history. In exploring events of the past, their work highlights how arbitrarily history is constructed. But their aim is not to correct the record, rather to put the emphasis elsewhere, to change the narrator, to create perspective, and to make up stories. Lagartijas Tiradas Al Sol have presented their work across Mexico and abroad; Festival Automne in Paris, THe Kunstenfestivaldesarts in Brussels, Vienna Festwochen, the High Season of Girona, Contemporary Scene in Madrid, Montreal Transameriques, Theater Spektakell of Zurich, and many others. They have received several awards, among them the nomination of Luisa Pardo and Gabino Rodriguez as candidates of The Rolex Mentor and Protege Initiative 2008, the Audience Award at the Festival Impatience in Paris 2011 (Odean Theatre and Centquartre) and ZKB Foldpreiss in Zurich 2011.
Headshot by Courtesy of the Artist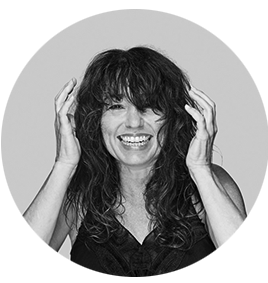 Shawn Sides
Shawn Sides (Director) is a founder and a Co-Producing Artistic Director of Rude Mechs in Austin, TX where she has co-conceived, co-adapted, and/or directed a new work every year, give or take, since 1996, including Off-Broadway and touring productions of Lipstick Traces, Get Your War On, Stop Hitting Yourself, The Method Gun, and their re-enactment of The Performance Group's Dionysus in 69. Recent projects include Field Guide (an adaptation of The Brothers Karamazov commissioned by Yale Rep), and Not Every Mountain at The Guthrie. Shawn is an Alpert Hedgebrook Prize recipient and was incorporated with her fellow Rudes into the Austin Arts Hall of Fame in 2010. She is a 2015 Doris Duke Performing Artist Award recipient.