Out of Bounds | World Premiere
THE ALL SING
"HERE LIES JOY"
January 8th @ 2pm at Duffy Square in Times Square | 15 minutes
READ DIGITAL PROGRAM HERE
In an exuberant cri de coeur, PROTOTYPE will celebrate its 10th anniversary season by bringing communities together through what we know best – the voice. Originally commissioned in direct response to the forced isolation of the pandemic, The All Sing is an ode to song and human connection that brings hundreds of people together in a vibrant tapestry of sound, poetic justice, and hope. From the voices who tread the boards of some of our most hallowed stages to those who tread the tiles of their shower, all are welcome in this ebullient celebration of connection, community, and our capacity for joy. Together we will craft an unforgettable moment and sing for a return to a more just, healthy, and music-filled life.
Commissioned, developed, and produced by PROTOTYPE: Opera | Theatre | Now, in partnership with Time Square Arts
The commissioning of The All Sing received funding from the Café Royal Cultural Foundation, and is made possible by the New York State Council on the Arts with the support of the Officer of the Governor and the New York State Legislature.
SIGN UP HERE TO JOIN THE ALL SING
*Scroll below to Additional Information to download all the necessary information as a participant in The All Sing
FREE! No registration required.
TIMES SQUARE
Between 42nd-47th Streets and Broadway
PUBLIC TRANSIT
Subway: A, C, E to 42nd Street, Port Authority; C, E to 50th Street; N, Q, R, 1, 2, 3, 7, S to 42nd Street, Times Square; 1, 2, 3 to 50th Street, or N, Q, R to 49th Street
Bus: M20, M16, M104, M7
PARKING
Advance Parking
253 W 43rd St
Central Parking System
271 W 47th St
257-259 W 47th St
155 W 48th St
250 W 50th St
253 W 47th St
870-888 Eighth Ave
SIGN UP HERE TO JOIN THE ALL SING
Click for score, libretto, rehearsal tracks, and audio demo
F.A.Q.
What musical experience should I have?
Singers of all backgrounds can join! Previous choral experience might be helpful, but it is not necessary. If you can learn the music using the provided score and rehearsal tracks you are welcome to join!
Is there an age limit?
All ages are welcome! All participating high school groups must sign permission forms provided by PROTOTYPE.
When and where are rehearsals, and what can I expect?
There will be one rehearsal for The All Sing on the day of the performance at 10am. The indoor meeting location will be within walking distance from Times Square and will be shared with all registered singers ASAP.
What is the attire for this performance? 
All coats, pants, and shoes should be in dark colors (black, dark gray, or navy blue)! We know it may be cold out and most people tend to have their warmest coats in these colors.
Will there be an audience?
Yes! THE ALL SING is 100% free to attend. Performers can feel free to invite friends, family, etc. and knowing how busy Times Square can be, we expect many people walking by to stop and take it in.
Will there be live instrumentalists?
Yes, there is a string section (violin, viola, cello) and rhythm section (drums, bass, piano), as well as four soloists singing alongside the choir.
Does the music have to be memorized?
No not at all! In fact, PROTOTYPE will be supplying folders for all singers to put their music on the day of the show. Please bring your own printed music with any markings that are helpful for you. We will also have extra copies of the music for anyone that needs it.
Any other questions? Please email Julia Mendes at jmendes@prototypefestival.org.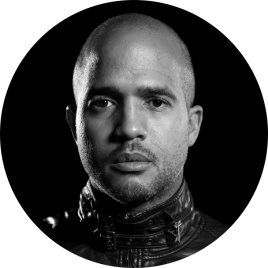 Daniel Bernard Roumain (DBR)
Daniel Bernard Roumain (DBR) (Co-creator) is a prolific and endlessly collaborative composer, performer, educator, and social entrepreneur. "About as omnivorous as a contemporary artist gets" (The New York Times), DBR has worked with artists from Philip Glass to Bill T. Jones to Lady Gaga; appeared on NPR, American Idol, and ESPN; and has collaborated with the Sydney Opera House and the City of Burlington, Vermont. He is a composer of chamber, orchestral, and operatic works; has won an Emmy for Outstanding Musical Composition for his collaborations with ESPN; and created large scale, site-specific musical events for public spaces. DBR earned his doctorate in Music Composition from the University of Michigan and is currently Institute Professor and Professor of Practice at Arizona State University.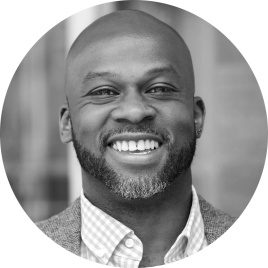 Marc Bamuthi Joseph
Marc Bamuthi Joseph (Co-creator) is a 2017 TED Global Fellow, an inaugural recipient of the Guggenheim Social Practice initiative, and an honoree of the United States Artists Rockefeller Fellowship. Bamuthi's opera libretto, We Shall Not Be Moved, was named one of 2017's "Best Classical Music Performances" by The New York Times. His evening length work created in collaboration with composer Daniel Bernard Roumain, The Just and The Blind, was commissioned by Carnegie Hall and premiered to a sold out house at Carnegie Hall in March 2019. His upcoming piece, In His Name, is inspired by the forgiveness exhibited by the congregation of Emanuel AME church in Charleston, and will premiere at The Perelman Center in New York.
Damien Sneed
Damien Sneed is a pianist, vocalist, organist, composer, conductor, producer, arranger, recording artist, instrumentalist, and arts educator whose work spans multiple genres. He has worked with musical legends including the late Aretha Franklin and Jessye Norman (featured on Norman's final recording, Bound for The Promised Land), Wynton Marsalis, Stevie Wonder, Diana Ross, Ashford & Simpson, J'Nai Bridges, Lawrence Brownlee, and more. Sneed has served as music director for several Grammy Award-winning gospel artists. He is a 2014 Sphinx Medal of Excellence recipient, a 2020 Dove Award winner, and a 2021 NAACP Image Award winner for his work as a featured producer and writer on the Clark Sisters' recently released album The Return. Sneed is currently a faculty member of the Manhattan School of Music and Artist-in-Residence at Michigan State University. During the 2018-2019 season, he served as music director, composer in residence, and cover conductor for the staff of the Houston Grand Opera, who commissioned him to compose a new chamber opera about the life of Marian Anderson, Marian's Song, which had its world premiere in 2020. Other commissions include the original score for Testament, a contemporary response to the 60th Anniversary of Revelations, for Alvin Ailey Dance Theater's first virtual season; and a chamber opera, The Tongue & The Lash, for Opera Theatre of Saint Louis in 2021. He is currently commissioned to compose his fourth opera, a reimagined adaptation of Scott Joplin's Treemonisha, which premieres May 20, 2023, to open OTSL's season.