Digital U.S. Premiere
The Planet – A Lament
Launches January 10 at 12pm ET | Available to stream January 10-16
Garin Nugroho's brand new staged Song Cycle, The Planet – A Lament, merges film with live dance and a 14-voice choir accompanied by Papuan Soloist to impart a moving story of creation set against the backdrop of environmental disaster.

Nugroho, expands his canvas to portray a destroyed community struggling in the aftermath of a devastating tsunami. He again performs his alchemical mix of striking cinematics, haunting song, wild dance and ancient ritual to concoct a new myth that speaks to our complex times.

For this new work, Nugroho collaborates with the outstanding Mazmur Chorale from Kupang and an artistic team from across the Indonesian archipelago of composers, choreographers and Papuan dancers alongside Australian dramaturg Michael Kantor and designer Anna Tregloan. Grounded in lament traditions of Melanesia, the thru composed Song Cycle is born from the visionary research of Papuan composer and soloist Septina Layan. The Planet – A Lament is an act of catharsis that mourns a world lost, while offering hope for another that may yet be nurtured in its wake.

A Garin Workshop & Turning World Production

Co-commissioned by Asia TOPA, Arts Centre Melbourne, Theater der Welt and Holland Festival
Tickets to The Planet – A Lament are free.
Unfortunately, The Planet – A Lament is not available to European Audiences at this time.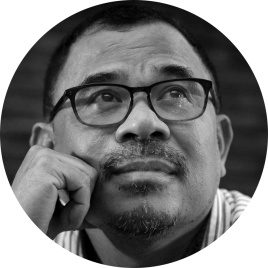 Garin Nugroho
(Director) is one of the most important Southeast Asian filmmakers of our time, having negotiated the complexities of his nation through the language of film. Working across a variety of disciplines from film to the stage, installation works, painting and writing, he received the cultural ambassador award from the Sultan Jogjakarta, Indonesian President Habibie culture award, the French honorary decoration of Chevalier dans l'ordre des Arts et Lettres, the Stella D'atelerie Cavalerie award from the Italian government (Stella D'Italia Cavaliere), Singapore Honorary award, and cultural diversity award APSA patron Unesco.

Nugroho has received international acclaim and widespread screenings that includes Cannes, Venice and Berlin Film Festival, his latest film Memories of My Body premiered at the 75th Venice International Film Festival (2018) and won several awards including Best Film at the Festival des 3 Continents, Nantes and the Asia Pacific Screen Awards. His stage works tour major venues and festivals throughout Europe and the Asia Pacific, he has also held numerous exhibitions including large scale installation works for the Louis Vuitton Gallery, Paris, Haus der Kunst, Munich and National Gallery of Indonesia, Jakarta. He was the founder of JAFF (Jogya Asia Netpac Film Festival) now in its 12th year, LA Indie movie short film festival and Ruang Kreatif platform for young Indonesian performance makers. He has served as a jury member to La Bienalle Venice – Orizonti, Busan International Film Festival, Tokyo Film Festival, Dubai Film Festival to the Kolkata International Film Festival, works closely with major international NGOs designing disaster relief and reconstruction strategies and has published a series of non fiction books and contributes a regular column to Indonesia's largest newspaper, KOMPAS.

Nugroho's work balances a powerful relationship between the screen, storytelling, social commentary and philosophy. His immense knowledge of the rich cultural traditions of Indonesia is combined with acute contemporary storytelling and close partnerships with Indonesia's leading choreographers, dancers, composers, visual artists and intellectuals.
Septina Rosalina Layan
(Composer & Performer) is a musician, pianist and composer based in Papua. Septina was born in Merauke, Papua and graduated with a Bachelor of Art at Institut Seni Indonesia Yogyakarta ( Indonesian Institute of the Arts, Yogyakarta) in 2014. The cultural value of laments, environment issues, natural resources and critiques toward social issues in Papua, form the core of her work. She received the 2017 from Yayasan Kelola, in 2018, she was chosen, along with the Voice of Papua, to participate in Europalia Festival in Brussels, Belgium. In the same year, Septina completed research and documentation on Eb traditional composition of Yaghai Mappi tribe, south Papua with the support of Hibah Cipta Media Ekspresi grant awarded by Wikimedia Indonesia and Ford Foundation.