Animated Opera | Live Screening
UNDINE (Live Screening)
Live Screening followed by Artist conversation | January 9th at 6pm at HERE DOT
GET TICKETS
An epidemic of addiction is raging in the world of mermaids. The mermaid Undine is addicted to hard plastic! In search of her daily dose, she ends up moving between an aquarium and a hydroponic garden in an apartment building in the middle of a city. There she meets the deeply unhappy Rodmenia, the wife of a tailor, and her neighbor Anselmo, an eccentric philosopher. Undine stays in the aquarium in Anselmo's study, where she appeases her addictive hunger with plastic busts of famous philosophers.
Undine's arrival shakes Rodmenia and Anselmo out of their respective ruts. The two neighbors become obsessed by the mermaid. Her magic world, in which she manipulates and seduces, stirs up an unprecedented desire for something glorious. Whereas Rodmenia sees this as a chance to escape her lonely, depressing existence and take charge of her own life, Anselmo sees Undine as a trophy, and the answer to the philosophic questions upon which his life has foundered. They each abandon themselves to their excessive desires, with far reaching consequences.
*There will be a live virtual Q & A with Artists on January 9 at 4pm ET
Produced by Stefanie Janssen for Stichting Wildermoed, Sjaron Minailo of Studio Minailo, Pádraig Fagan for Paper Panther Productions
145 Sixth Avenue
New York, NY 10013
One block south of Spring St.,
enter on Dominick St.
212.352.3101
here.org
PUBLIC TRANSIT
Subway: C or E to Spring St.; 1 to Houston St.; N or R to Prince St.
Bus: M21 to Houston St.; M6 to Spring St.
ACCESSIBILITY
Both of HERE's spaces are wheelchair accessible, and fully compliant with ADA requirements
PARKING
There is an Edison ParkFast lot behind Manhattan Mini Storage on Varick Street and Spring Street. Drivers can enter from Spring or Dominick Street.
Edison ParkFast
272 Spring Street
New York, NY 10013
212-675-8910
For more info on UNDINE, click here
Until further notice, all patrons attending HERE performances and events will be required to wear masks (KN95 or KF94 masks are strongly recommended).
Proof of vaccination is no longer required.
We ask all audience members to please stay home if they have a sore throat, are feeling sick in any other way, or have been recently exposed to COVID-19, and to please contact the box office for refunds or exchanges.
All of our performers, technicians, and staff members are required to be fully vaccinated and masked unless they are onstage performing. Additionally, they are participating in an active testing regimen to keep everyone as safe as possible.
HERE reserves the right to revise protocols as the rate of transmission changes and in light of new scientific data that may present itself.
Stefanie Janssen
Stefanie graduated in Classical Vocals from the ArtEZ Academy of Music in 2011. Since then she has worked as a songwriter and performer, both on a contractual basis and on her own initiative. Stefanie's ongoing search for collaborations and crossovers has resulted in a variety of dance theatre, music theatre and opera projects, such as Victory Over The Sun (Stedelijk Museum Amsterdam), the hip-hop musical Ugly D (Gevaarlijk Goed), the opera Three Voices (La Monnaie, Brussels), the interactive online opera The Transmigration of Morton F. (Holland Festival) and the oratorio De Zingende Vuurtoren (Theater by the Sea festival, Oostende). In 2018, she released her debut album, Soft Forces, under the stage name STASJ, after having made the Dutch-language EP AAN in 2015. She wrote musical compositions on commission for Edith – Judith (2016, Kunstmuseum Den Haag) and for the dance productions A Moment For A Moment (2014, M-Lab), Casablanca (2014, Theater Avenue) and Sticks and stones may break our bones (2013, Musis Sacrum, Galerie Bart Amsterdam). She works closely with Studio Minailo, Laboratory for Performing Arts. Stefanie is affiliated with the improvisation collective WaterAap in Tilburg. In 2019, she established Stichting Wildermoed, a foundation for which she currently works as artistic director, librettist and composer of the animated opera Undine. Toward the end of 2020, she started producing music, among others for Studio Minailo's music-theatrical podcast series Eva.
Sjaron Minailo
Sjaron Minailo, who was born in Israel, has been living and working in Amsterdam for many years now. He is artistic director of Studio Minailo, a laboratory for experimental music theatre and opera. Sjaron specializes in breaking through the boundaries of traditional opera. His work is often a reaction to social and political developments. Sjaron has directed many multidisciplinary projects, such as the white-cube opera trilogy Pornographia-Megalomania-Nostalgia; his adaptation of Malevich's opera Victory Over the Sun for the Stedelijk Museum Amsterdam; his installation Rothko Chapel, based on the compositions of Morton Feldman; and his digital work The Transmigration of Morton F, which he created on commission from the Holland Festival and La Monnaie in Brussels. In collaboration with the Dutch National Opera, Amsterdam Dance and Nightsha- de, he made Before Present. Together with Claron McFadden, he made Nightshade: Aubergine for Muziektheater Transparant, a production about the discovery of the origins of various cultures, focussing on one of the most iconic ingredients in the culinary world, the aubergine. Sjaron has worked with orchestras such as the Asko/Schönberg Ensemble, Rotterdam Philharmonic Orchestra, Residentie Orkest, Capella Cracoviensis and Cappella Mediterranea. Since 2008, he has participated annually in the opera festival Operadagen Rotterdam. For La Monnaie in Brussels, he made and directed the opera Medúlla, based on the similarly named album by Björk. He also made a site-specific production based on Morton Feldman's Three Voices for Joan La Barbara (ENOA, La Monnaie, Nuit Blanche Brussels) as well as the opera To Be Sung by Pascal Dusapin (La Monnaie), Händel's Semele for the Operadagen Rotterdam, Rameau's Hippolyte et Aricie for Opera Rara in Kraków, Future Opera for the Bergen National Opera and Die Zauberflöte for Teatr Wielki in Poznań.
Michaël Brijs
Michaël (1979) was born and raised in Antwerp, where he still lives. He graduated from the Royal Conservatoire Antwerp with a Master's in Musical Performance and from the University of Antwerp in Germanic Languages. Michaël works as a performing musician and composer and is also an author. As a flute player, he is a member of the Score Man Orchestra and Clear Instant (with Thomas De Prins) and the Takenouchi Project by Free Desmyter and Bassem Hawar. His band The Valerie Solanas achieved a modest cult status, performing in New York and Japan, among other places. He created the music theatre productions Beat The Hippo's (2013) and Manson (2017), and writes music for De Bronstige Bazooka's, a choir with members from highly varied backgrounds, which can be heard at Saint- Amour and elsewhere. He teaches song writing at the Municipal Academy for Music, Word and Dance (SAMWD) in Lier and jazz flute in Wilrijk. In September 2020, his debut novel, Nachtbouwer, was published by Polis/Pelckmans.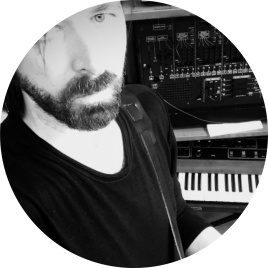 Richard van Kruysdijk
Richard graduated from the Royal Academy of Arts and Design in's-Hertogenbosch. At the academy, he focused on painting and photography. His graduation project was a short 16mm film that screened in various theaters and at the Netherlands Film Days in Utrecht. After a solo concert in Paradiso during his last year at the academy, he signed his first record contract. That was followed by the many CD releases, tours and musical collaborations as musician/producer/composer.