Out of Bounds | World Premiere Sonic Experience
Times3
(Times x Times x Times)
Extended through February 1, 2022, available for download | Access from home or Times Square
Such strange times call for a new time signature. Is there still time to sit in the center of a city and hear the tide of traffic? To listen for a heartbeat? Times Squared is Times times Times; and Times in three dimensions? Times cubed. Times times Times times Times. Five Times. Five global extinctions. One planet. One city. 8.4 million people. Say that five times fast.
Composer Pamela Z and theatre artist Geoff Sobelle collaborate on a site-specific sonic journey through Times Square – past, present and imagined… What was this place? What is this place? And how did we get here? In this work of sound and space, the listener is brought into a realm where the city and score come together and fall apart and come together again.
Take a walk in Times Square and hear a score crafted specifically for your experience. Or listen in the comfort of your home and imagine a city carved by countless hands from a place once thick with trees… which may be headed that way again. This music, created through impressions of a space, was composed for listeners to tune themselves to the forces underfoot, back in time, and down the road. It is a soundscape created for you to experience the city.
Times3 (Times x Times x Times) is PROTOTYPE's fourth iteration of Out of Bounds, a platform for new vocal performance pieces taking place in unlikely locations throughout New York. Through the works, public sites will become temporary spaces of contact, exchange, and refreshed social dynamics.
TIMES SQUARE
Between 42nd-47th Streets and Broadway
PUBLIC TRANSIT
Subway: A, C, E to 42nd Street, Port Authority; C, E to 50th Street; N, Q, R, 1, 2, 3, 7, S to 42nd Street, Times Square; 1, 2, 3 to 50th Street, or N, Q, R to 49th Street
Bus: M20, M16, M104, M7
PARKING
Advance Parking
253 W 43rd St
Central Parking System
271 W 47th St
257-259 W 47th St
155 W 48th St
250 W 50th St
253 W 47th St
870-888 Eighth Ave
Geoff Sobelle
(Co-creator) is a theatre artist dedicated to the "sublime ridiculous." He is the co-artistic director of rainpan 43, a renegade absurdist outfit devoted to creating original actor-driven performance works. Using illusion, film and out-dated mechanics, R43 creates surreal, poetic pieces that look for humanity where you least expect it and find grace where no one is looking. R43's shows include: all wear bowlers (Innovative Theatre Award, Drama Desk nomination), Amnesia Curiosa, machines machines machines machines machines machines machines (OBIE award – design), and Elephant Room (commissioned by Center Theatre Group). His independent work includes Flesh and Blood & Fish and Fowl (Edinburgh Fringe First Award) and The Object Lesson (Edinburgh Fringe First Award, Carol Tambor Award, Total Theatre Award, NYTimes Critics Pick). He has been a company member of Philadelphia's Pig Iron Theatre Company since 2001.
All of his work to date has premiered at the Philadelphia Live Arts Festival before touring nationally and internationally. Geoff's work has been presented at the the Brooklyn Academy of Music (BAM), St. Ann's Warehouse, HERE Arts Center, The Kirk Douglas Theatre (CTG), Berkeley Rep, La Jolla Playhouse, Arena Stage, Studio Theatre (DC), Museum of Contemporary Art (Chicago), Bard College, the Barbican Center (London), and has toured to Germany, Italy, France and South Korea.
As a teacher, Geoff has led workshops all over the world in devised theatre creation, physical approach to character, clown and "jeu." He is a teacher at the Pig Iron school in Philadelphia (APT) and is on faculty at Bard College. His projects have been supported by the MAP Fund, the Independence Foundation, the Philadelphia Theatre Initiative, the Wyncote Foundation, US Arts International, the Princeton Atelier and the New England Foundation for the Arts. He is a 2006 Pew Fellow and is a 2009 Creative Capital grantee. Geoff graduated with honors from Stanford University and trained in physical theatre at École Jacques Lecoq in Paris.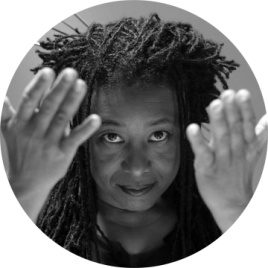 Pamela Z
(Co-creator) is a composer/performer and media artist who works primarily with voice, live electronic processing, sampled sound, and video. A pioneer of live digital looping techniques, she processes her voice in real time to create dense, complex sonic layers. Her solo works combine experimental extended vocal techniques, operatic bel canto, found objects, text, digital processing, and wireless MIDI controllers that allow her to manipulate sound with physical gestures. In addition to her solo work, she has been commissioned to compose scores for dance, theatre, film, and chamber ensembles including Kronos Quartet, Eighth Blackbird, the Bang on a Can All Stars, Ethel, and San Francisco Contemporary Music Players. Her interdisciplinary performance works have been presented at venues including The Kitchen (NY), Yerba Buena Center for the Arts (SF), REDCAT (LA), and MCA (Chicago), and her installations have been presented at such exhibition spaces as the Whitney (NY), the Diözesanmuseum (Cologne), and the Krannert (IL). Pamela Z has toured extensively throughout the US, Europe, and Japan. She has performed in numerous festivals including Bang on a Can (New York), Interlink (Japan), Other Minds (San Francisco), La Biennale di Venezia (Italy), Dak'Art (Sénégal) and Pina Bausch Tanztheater Festival (Wuppertal, Germany). She's a recipient of numerous awards including the Rome Prize, United States Artists, a Robert Rauschenberg Foundation residency, the Guggenheim, the Doris Duke Artist Impact Award, Herb Alpert Award, an Ars Electronica honorable mention, and the NEA Japan/US Friendship Commission Fellowship. She holds a music degree from the University of Colorado, Boulder.